---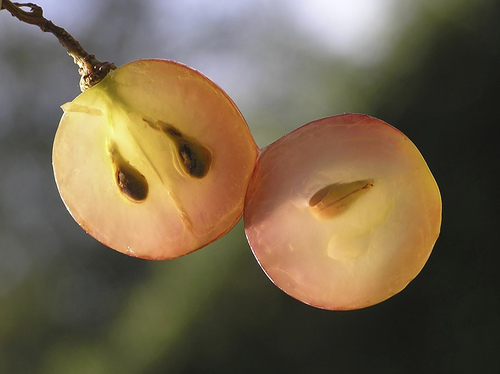 Grape Seed fruit uses?
What condition are you taking this herb for?
Have you told your doctor you're taking this herb?
Major: Micocirculatory maldistribution of blood flow. Capillary fragility and permeability due to diabetes mellitus. Antiinflammatory.
Minor: Enhances a variety of circulatory functions at cerebral and cardiac levels. Modifies peripheral arterio-venous circulation (due mainly to overproduction of free radicals). Lymphedema acrocyanosis, acroparestheses, varicose veins, telangiectases (dilation of small vessels producing red tumors in the skin). Alternation of blood rheology and platelet aggrgation. Visual alteration due to free radical-induced impairment of vitamin A availability. Alterations of endothelial cell and proteoglycan matrix of vessel walls induced by free radicals. Radioprotection.
Polyphenolic derivatives in the seeds and skin have anti-enzyme properties and have shown significant therapeutic potential against: Ehrlich ascites carcinoma, dental caries (possible).
Actions: Antioxidant, antiinflammatory, radioprotective, antienzyme (antiproteasic), antimutagenic.